Fattypuffs and Thinifers
August 12th, 2005 (08:46 am)
When I was a kid, I had this strange book (and still have) that nobody else ever seems to have read. FATTYPUFFS & THINIFERS, by Andre Maurois, 1930. Wonderfully illustrated by Fritz Wegner. My edition is 1968. The book seems to be out of print now, probably due to its rather politically incorrect plotline. I'm not even sure how I got it, it just seemed to appear on my bookshelf one day.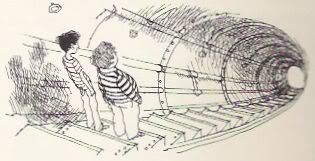 In the book, two brothers, a fat one and a thin one, find an escalator that goes down to the center of the Earth. There they find a hollow world: a sea, on either side of which are two nations, Fattipuff, and Thinifer, inhabited entirely by fat people and thin people, respectively.




The Fattipuffs are obviously meant to be rather German, the Thinifers English. Their architecture, trains, even their farm animals are all as fat or as thin as they are.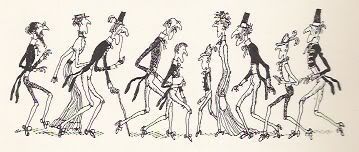 The brothers are separated, the fat one to Fattipuff, the thin one to Thinifer. Eventually the Fattipuffs and the Thinifers go to war, in a very World War I-style conflict.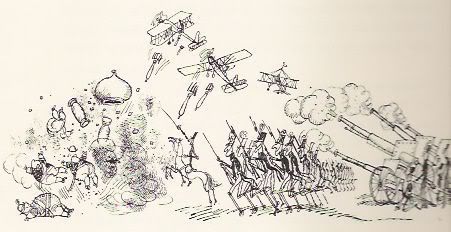 The Fattipuffs are roundly trounced and surrender to the Thinifers.

Eventually there is somewhat of a meeting of the cultures. Occupying Thinifer soldiers take Fattipuff warbrides. Thinifer children get hooked on Fattipuff culinary treats.

Still, I decided early on I'd better stay on the side of the Thinifers.

Update 2013-08-16: An anonymous commenter in Nuremberg below sent me a link (Actually 3 months ago, but I just now found it) to a 2009 post on the blog Hobopok Dimanche with entirely different illustrations by Jean Bruller from a 1967 French edition of Patapoufs et Filifers. Fun! I like the Fritz Wegner illustrations better, but I suspect it's whatever version you first read as a kid.