Hawthorne Village STAR TREK train!
May 12th, 2009 (07:18 am)
Hawthorne Village, when it isn't making miniature Christmas houses, makes head-scratchingly strange collectibles, like The Village of Horror, or this LORD OF THE RINGS train set: "Pardon me orc, is that the Minus Morgul choo-choo?".

Now comes this STAR TREK train set. I just can't picture their audience; both Trekkies and model railroaders would be mortified to have this, I'd think.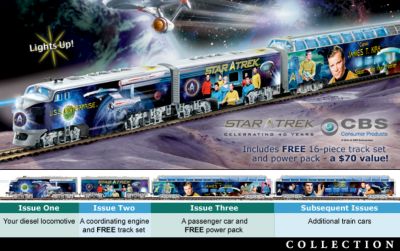 Maybe if it was a miniature mag-lev train, or something. As is, I can only picture it's the gift your Great Aunt orders for you because she knows you're into that Space Travels show.

---
Also,
pictures from 1970s STAR TREK conventions!
(By way of
bonniegrrl
)