As a kid, the Doctor Seuss story
The Green Pants With Nobody Inside Them
really scared me. Really scared the pants off of me, you could say.
The story is actually called
"What Was I Scared Of?"
It was in the anthology
THE SNEETCHES AND OTHER STORIES
(1961), still in print 51 years later (
Amazon
). The book also contained "The Sneetches" and "The Zax", both also very memorable. Also "Too Many Daves", which I don't remember nearly as well.
"What Was I Scared Of?" has a 2009 stand-alone book reprint, with glow-in-the-dark printing, which is pretty cool (
Amazon
).
I know it's a tale about learning not to be afraid of things just because they're different, but the problem I see with this scenario is, they're some freakin' green pants with NOBODY INSIDE THEM.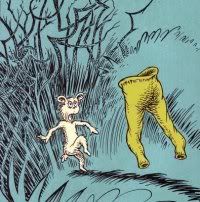 Call in Kolchak the Nightstalker! Call in Mulder and Scully! Call in The Brothers Winchester! Kill it with fire!
(
Collapse
)