"Since the beginning of time, Man has yearned to destroy the Sun. I will do the next best thing... block it out!"
---C. Montgomery Burns, THE SIMPSONS
Well, I think I'm as prepared as I can be for this evening's
transit of Venus
.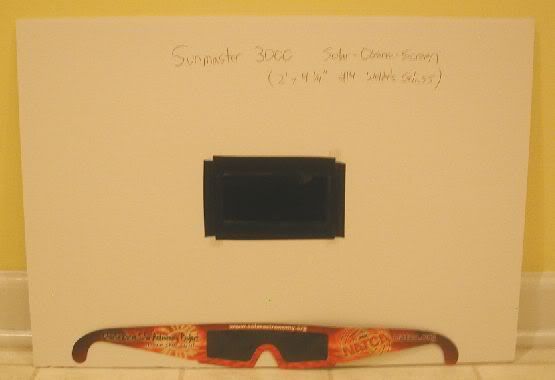 I made this Solar Observ-a-screen from a piece of posterboard, some black tape, and a piece of 2" x 4-1/4" #14 filter welder's glass.
And then from a specialty telescope shop (Thanks,
Camera Bug
in Atlanta!) I got the paper-and-plastic glasses.
Through the welding glass the Sun is green, through the paper-and-plastic glasses it's orange.
Now if it can just manage partly cloudy/sunny from 6:05 PM ET to sunset (8:46pm here in Atlanta) this evening, and not full-on cloudy or rain. Right now it's raining, but it looks like around 4 PM there'll be a change of weather.
This will be the last transit of Venus for 105 years, until 2117.
But there is a
total solar eclipse in 2017
.
As with any time you decide to stare at the Sun, practice eye safety.
Here's some tips
.