So, timely for Veterans Day: The other day I was talking to this 87-year-old gentleman, David Pirkle, Senior. He resides in the same Assisted Living Facility as my mother, in Alpharetta, Georgia. Born 1925, and, as it turns out, during World War II, he was in the 735th Railway Operating Battalion, Company B, and at the Battle of the Bulge, December 1944-January 1945. I told him I'd look on the web for info about his Company.
On a website,
militaryrailwayservice.blogspot.com
, I found info about the Railway Operating Battalions, and specifically, there was a Carl Vernoy, who was also in the 735th Railway Operating Battalion, Company B, died 1989. Carl's daughter had posted some pictures from her dad's wartime experiences, and one of them had Carl standing next to a David. There'd be like 144 guys in a Company, so there could be a number of Davids, but what if it was the same guy? So the next day I showed him the picture, without any captions or explanation, and asked if any of the guys looked familiar, and right away he pointed to the 2nd guy from the right, and said, "That's me." As it happened, his son arrived a few minutes later, and he too confirmed the identification.
In this
web-post
, David Pirkle is in the picture of the 4 guys standing outdoors in front of a window in Brussels, February 1945. His buddy Carl Vernoy is next to him on the far right. The guy on the far left may be a Harry Radka, but that's unconfirmed. The man next to him (second from the left) is unidentified, except that the photo listed him as being later killed in Belgium.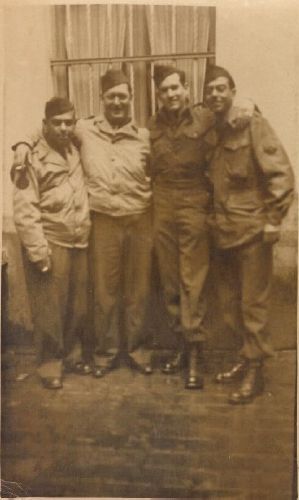 From Left to Right: (Possibly) Harry Radka, Unknown (Killed in Belgium 1945), David Pirkle Senior, and Carl Vernoy. Picture courtesy of Mary Vernoy, Carl's daughter.
(
Collapse
)