Virtual TRIUMPH OF MAN!
February 3rd, 2012 (07:10 am)
When I was a kid in the 1970s, I used to explore the old COSI (Center of Science & Industry museum) in Columbus, Ohio. It opened in 1964, in the old Franklin County Memorial Hall which was built in 1906. In 1973, which was probably shortly after I started going there, they added a "Solar Front" to the building, completely enclosing the old granite steps and pillars with a glass facade, which made it look less like a stodgy old museum and more Space-Agey.

The museum was a big maze, and it was as much fun exploring the nooks and crannies of the maze as viewing the exhibits.

One of the exhibits was The Triumph of Man, a complete history of humanity in 14 scenes. You'd walk along a darkened corridor, and view paper-mache dioramas off in alcoves. Recorded narration would play for each scene.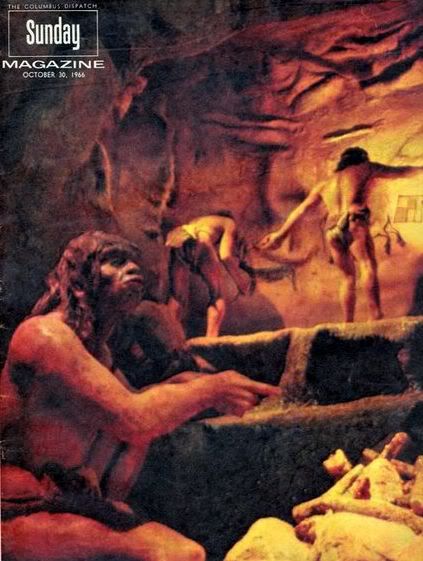 The exhibit came from the 1964 World's Fair in New York City (The same one that plays a role in the movie MEN IN BLACK). It was built by The Travelers Insurance Companies. In the photo below, the Triumph of Man exhibit is the red flying saucer building in the far back right, to the right of the big egg.




In 1999, COSI moved to a new location, and the Triumph of Man exhibit was torn down.

I've created a Virtual TRIUMPH OF MAN exhibit. You can play it here(Requires Flash):

Virtual TRIUMPH OF MAN! Crank up your speakers!

Sources:
The Eye Of The Goof blog (Apparently defunct as of March 2012).
Here and here on the Old COSI website.