So, timely for Veterans Day: The other day I was talking to this 87-year-old gentleman, David Pirkle, Senior. He resides in the same Assisted Living Facility as my mother, in Alpharetta, Georgia. Born 1925, and, as it turns out, during World War II, he was in the 735th Railway Operating Battalion, Company B, and at the Battle of the Bulge, December 1944-January 1945. I told him I'd look on the web for info about his Company.

On a website, militaryrailwayservice.blogspot.com, I found info about the Railway Operating Battalions, and specifically, there was a Carl Vernoy, who was also in the 735th Railway Operating Battalion, Company B, died 1989. Carl's daughter had posted some pictures from her dad's wartime experiences, and one of them had Carl standing next to a David. There'd be like 144 guys in a Company, so there could be a number of Davids, but what if it was the same guy? So the next day I showed him the picture, without any captions or explanation, and asked if any of the guys looked familiar, and right away he pointed to the 2nd guy from the right, and said, "That's me." As it happened, his son arrived a few minutes later, and he too confirmed the identification.

In this web-post, David Pirkle is in the picture of the 4 guys standing outdoors in front of a window in Brussels, February 1945. His buddy Carl Vernoy is next to him on the far right. The guy on the far left may be a Harry Radka, but that's unconfirmed. The man next to him (second from the left) is unidentified, except that the photo listed him as being later killed in Belgium.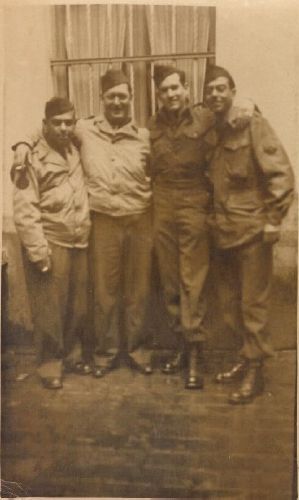 From Left to Right: (Possibly) Harry Radka, Unknown (Killed in Belgium 1945), David Pirkle Senior, and Carl Vernoy. Picture courtesy of Mary Vernoy, Carl's daughter.


David went into Army training right after his 18th birthday in October 1943. He was at Fort McPherson and Fort Benning in Georgia, and later Fort Snelling in Minnesota. Then they were deployed to England, and in October 1944, about 4 months after D-Day, landed on Omaha Beach in Normandy. And then, by December 1944-January 1945 at the Battle of the Bulge.
David described having to clear bodies off the road under enemy fire. As he put it, if the bodies grunted, they went on a truck to a field hospital, if they didn't, they were moved to the side of the road so the trucks and tanks could get by without running them over. Obviously, made quite an impression on a 19-year-old. By February 1945 he was in Brussels. Possibly after that, he ended up with pneumonia at a field hospital. He described a time they ran out of gasoline and had to use someone's homemade alcohol for fuel in the jeeps. Company B of the 735th commandeered enemy engines and rolling stock.

David references a Captain Andrews who was in charge of Company B, who later died in Germany.
Other members of Company B that David remembers: Carl Vernoy, Harry Radka, and Jim Cherry.
Also, not quite as well as the above, but he remembers a Sgt Chalmer Lavelle and Tec 4 Joseph Shuboney,
Also, 2 men from Company B he didn't recall: Tec 5 Paul Masterson and T Sgt George Rosar.
I obtained these names from a Fort Snelling firearms qualification report report provided by John Lewis, son of Captain Francis Lewis, Company A.
Mr. Pirkle may be the last surviving member of the 735th Railroad Operating Battalion, Company B.



There's more information about the 735th Railway Operating Battalion here, although mostly about members of Company A and C, not B.

Tom Luthman