In tribute to the World Cup, Kerbal Space Program released its first official mod:
Kerbin Cup, which adds big soccer balls - Kerbal-sized and rocket-sized, to the game.



What can one do with a gigantic soccer ball in Kerbal Space Program? I thought I'd try to launch it to the Kerbin South Pole.


I used a KerbalX rocket, with the parachute removed and the gigantic soccer ball in its place.



I launched and jettisoned all the boosters, then fired up the Command Module's rocket engine. This allowed a suborbital flight that ended in the Kerbin Antarctic. It rose some 4700 kilometers before starting its descent back to Kerbin.



I turned off the command module's rocket engine, then, when I was getting close to the ground, swiveled the ship around and started firing it as a retrorocket to try to slow my descent.

When I got about 1600 meters from the ground, I swiveled the ship around again so the big soccer ball would take the brunt of the impact. I expected this to go badly, as I had no parachute.



Somewhat to my surprise, the bouncy soccer ball seemed to absorb most of the impact, and the crew landed relatively unscathed.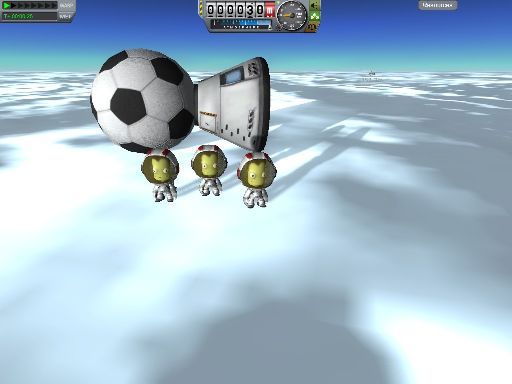 I ended up at 83 degrees South latitude, around 67 kilometers from the South Pole. I was just aiming to hit Kerbin Antarctica (Kantarctica?), so, close enough!

"WE CHOOSE TO SEND A GIGANTIC SOCCER BALL TO THE KERBIN ANTARCTIC AND DO THE OTHER THINGS! NOT BECAUSE THEY ARE EASY, BUT BECAUSE THEY ARE HARD!"