This is Dragon Con 30. The first Dragon Con was in 1987. I started going in 1995, and this is my 21st Dragon Con (I missed 2015).


---

Dragon Con 2016 - Day Zero - Thursday, September 1st, 2016

My first ride on the Atlanta Streetcar.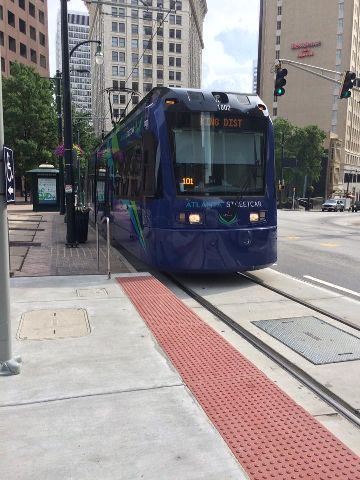 COP-MB 4-3-8-L 33 45.508 N 84 23.594 W.
COP-BL 129-1-2-D 33 45.626 N 84 23.594 W.

The Centennial Park Ferris Wheel



First costumes of the night: Amish folk (At least 1 sexy Amish folk).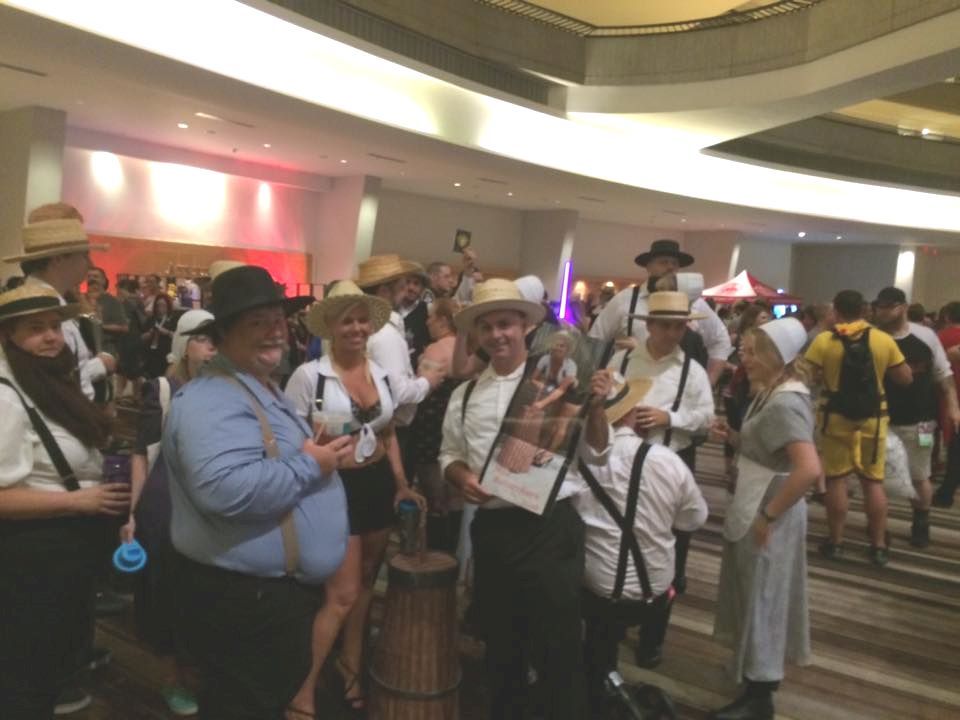 Note that the carpet has changed in the Atlanta Marriott Marquis. This will come into play later.



Disney's UP guy with balloons: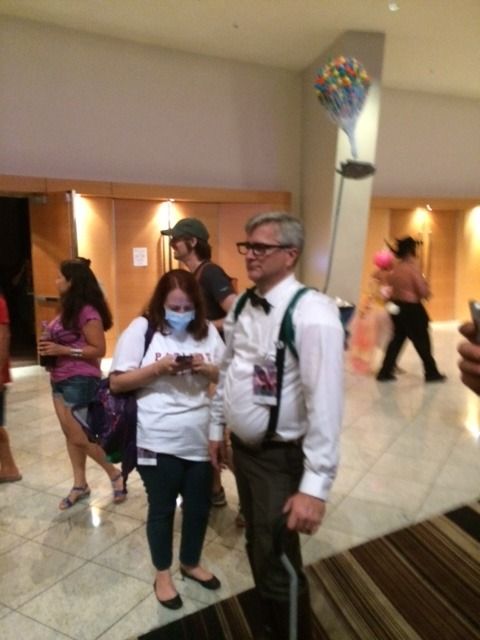 Portal Companion Cube and Cake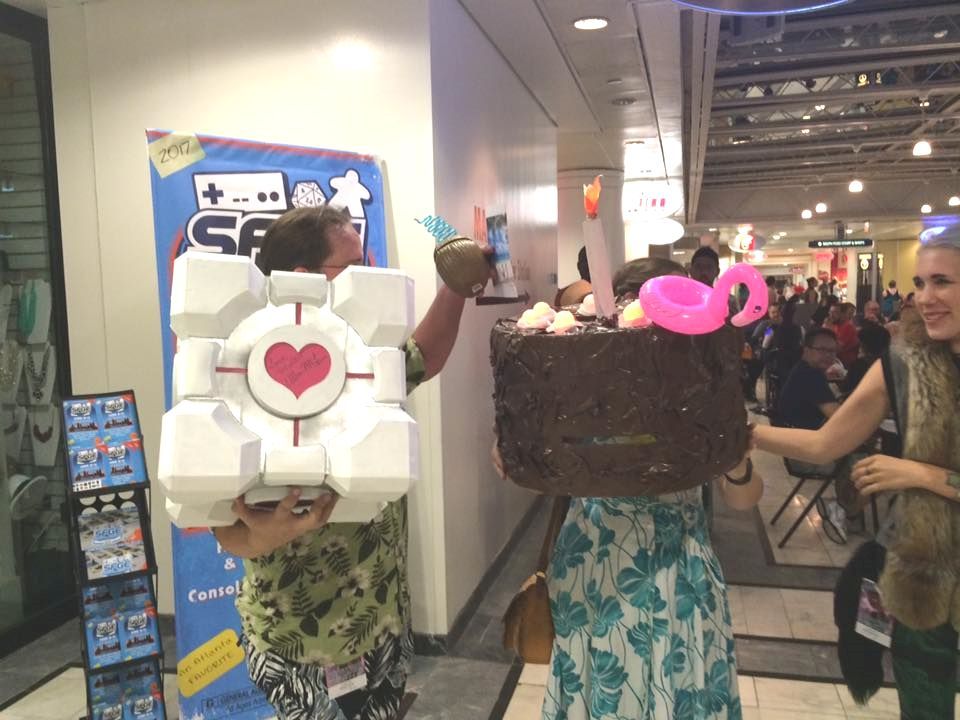 Tremors Guys and graboids



10pm Bunny Hutch costume contest, Marriott Marquis Imperial Ballroom.


---

Dragon Con 2016 - Day One - Friday, September 2nd, 2016


Shout out to two friends who are professionals at Dragon Con:

Mark Helwig in the Art Show. Hyatt Regency.

Jason Albin Thomas's Red Rocket Farm in the Artist Alley. Artist Alley has moved this year to AmericasMart Building 2, 3rd floor.

Dragon Con Atlanta Marriott Marquis carpet gag: Briefly, the Atlanta Marriott Marquis, which opened in 1985, had this very distinctive carpet pattern. In 2013 Dragon Con cosplayers started dressing up as the carpet. The carpet was replaced in June 2016 (See new pattern above), but Dragon Con cosplayers continued the tradition. Some even brought sections of carpet.

Note the umbrella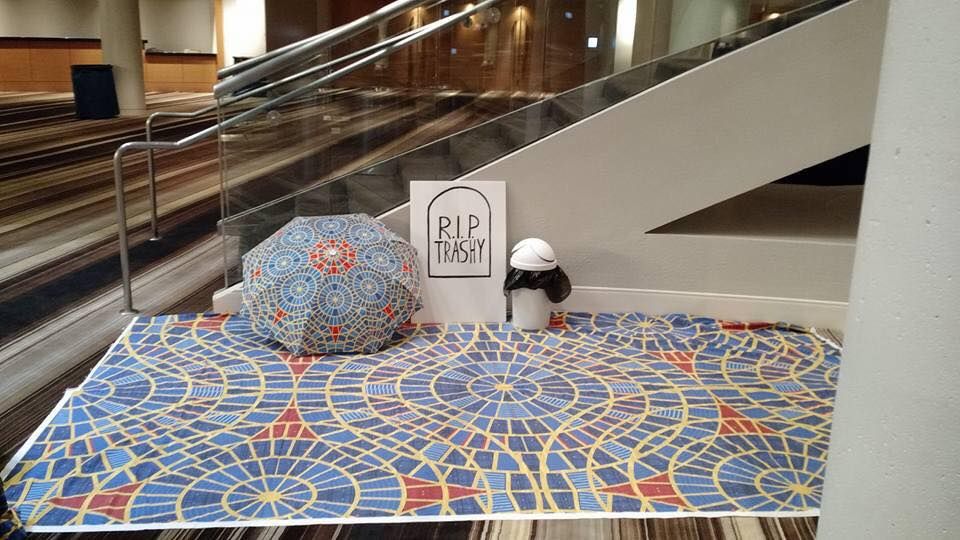 Photo credit.



Photo credit.

Ziggy Stardust version


Photo credit.

Culiminating with this truck in the parade.


Photo credit.

Somebody even cosplayed as the Westin Peachtree Plaza hotel!

10am: 3D printer panel - Robotics Track - Sheraton Atlanta Ballroom

11:30am: Legends of Tomorrow panel Marriott Atrium Ballroom.

1pm Mad Max panel AmericasMart Building 2 floor 4 204i

A couple of Mad Maxs and some Fury Road War Boys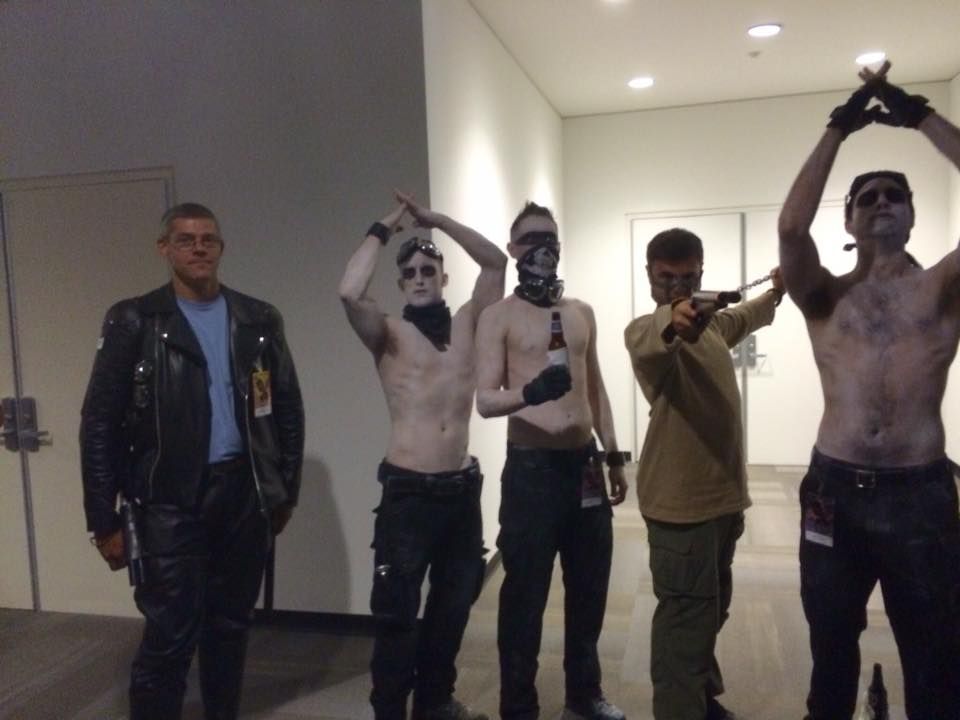 More Mad Maxs: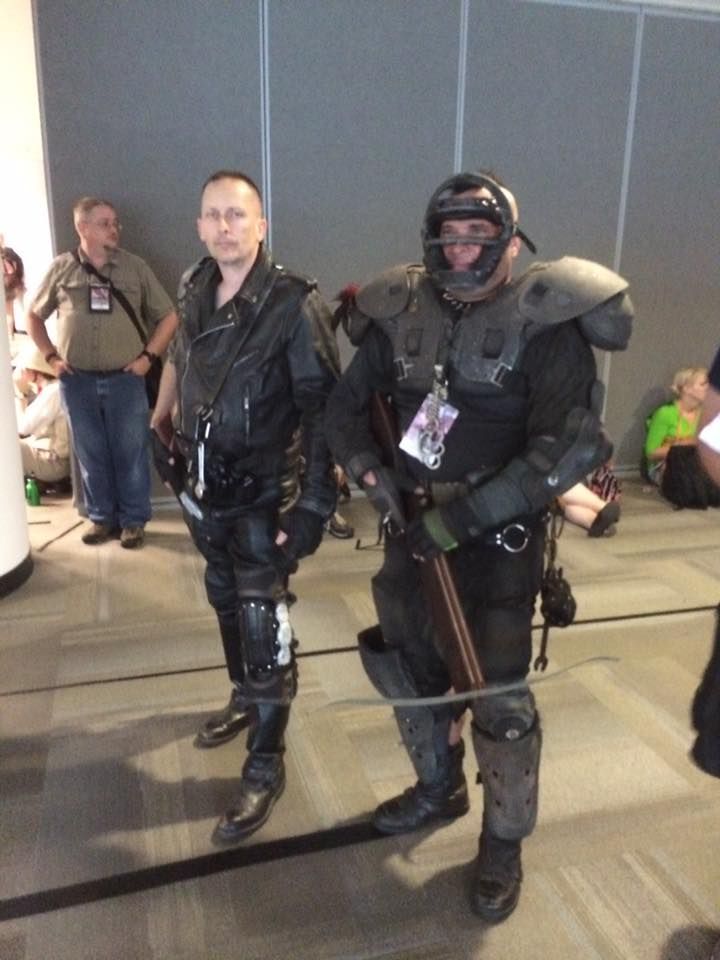 Mad Max: Fury Road Furiosa and Warrior Women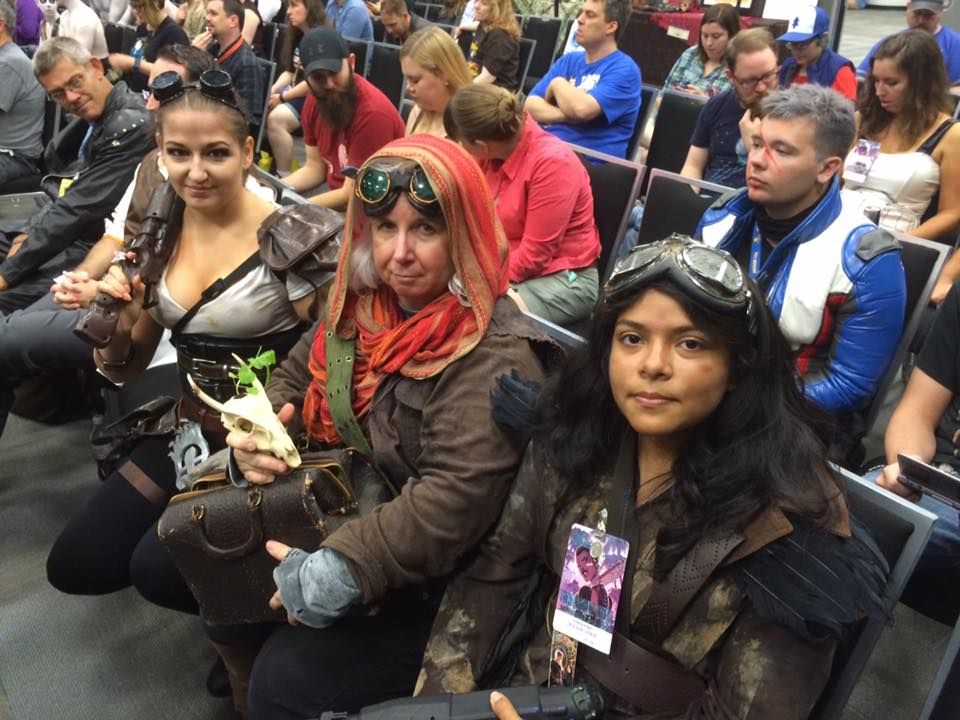 Mad Max: Fury Road and Warrior Women



Mad Max Main Force Patrol (MFP):



Left: Artifacts from an archeological dig at the Road Warrior compound explosion site. Middle, right: Prop recreations



Humungus trading cards. Collect them all. Er, one.
These artifacts and props are owned by cosplayer Humungus, who has his own Topps-style trading card:



Actually filmmaker Faye Murman is making a documentary film about him. Facebook.

There was another guy there who'd made life-sized working vehicle recreations of the Humungus's vehicle and Pappagallo's vehicle.

All these guys go to that Wasteland Weekend out in California City, California that's happening again this year Thursday, September 22nd to Sunday, September 25th: http://www.wastelandweekend.com/

I went looking for a geocache, and found these Disney princesses having a photoshoot right where I needed to be.



You're still blocking the geocache.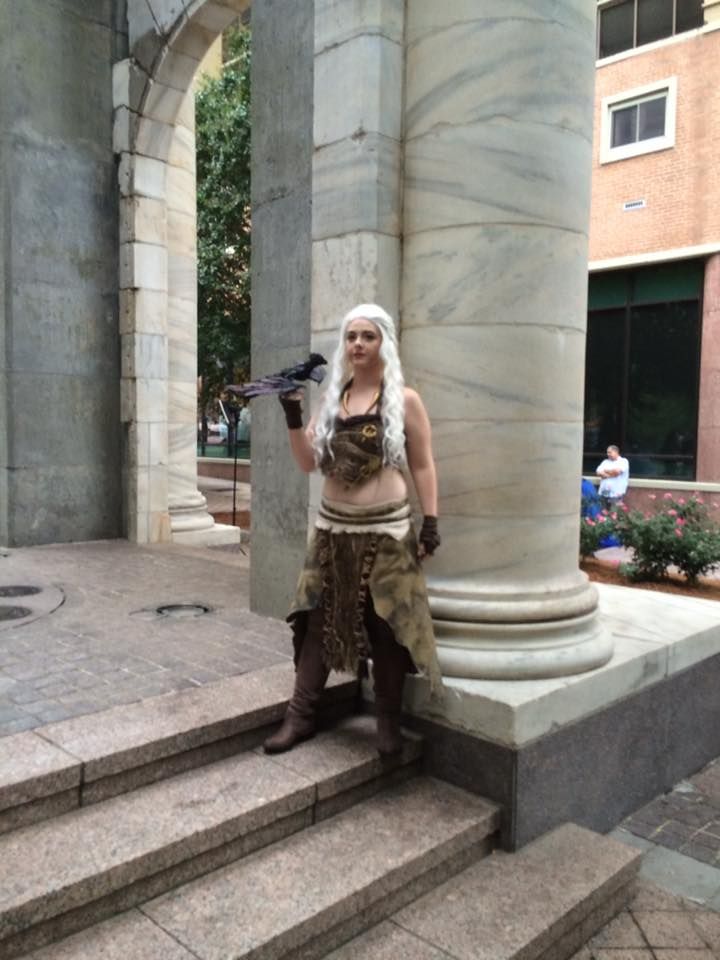 You're still blocking the geocache.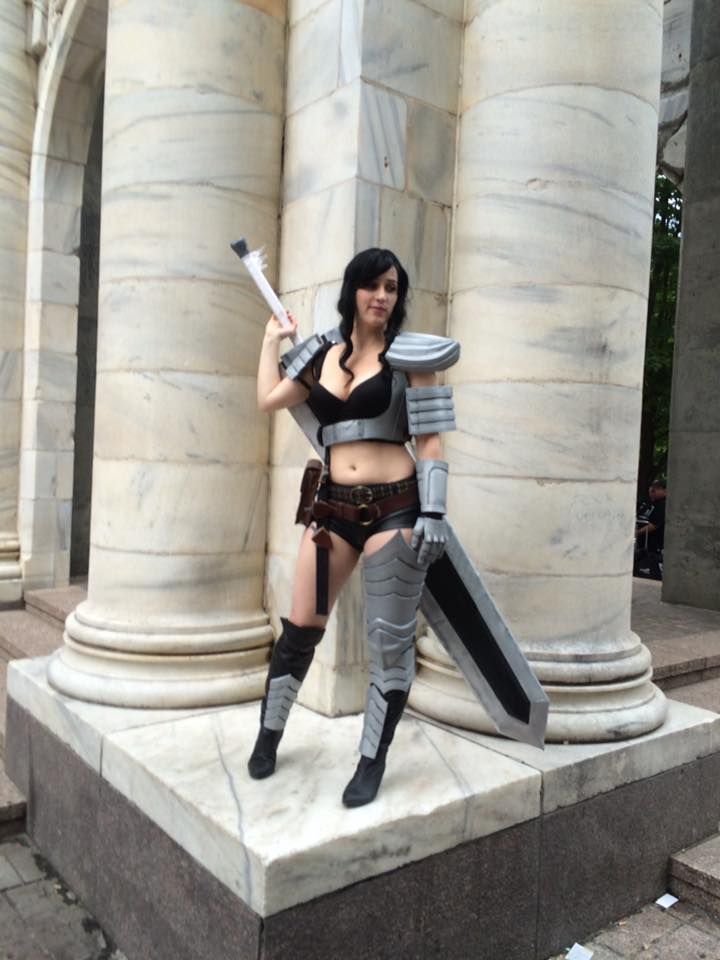 You're still blocking the geocache.



Still blocking the geocache.



It started to rain and all the cosplayers ran under here then discovered it had no roof. So they ran elsewhere and I... eventually... found the microcache.

Steampunks:



7pm Brian Henson - Marriott Atrium Ballroom.

Hoban "Wash" Washburne from Firefly/Serenity impaled
"Curse your sudden but inevitable betrayal!"



"How do Reavers clean their harpoons?"
"They run them through the Wash!"

It's OK. I saw actor Alan Tudyk, who played Wash, later in the evening.. He's recovered remarkably well from being impaled.

10pm Westin Peachtree Ballroom - Alan Tudyk introducing his game Con Man for Android and iOS.
http://conmantheseries.com/game/

10pm Sheraton Athens - Absolutely Fabulous fan panel.

Hilton - Cantina Band



Empire Strikes Back guy with ice cream-maker: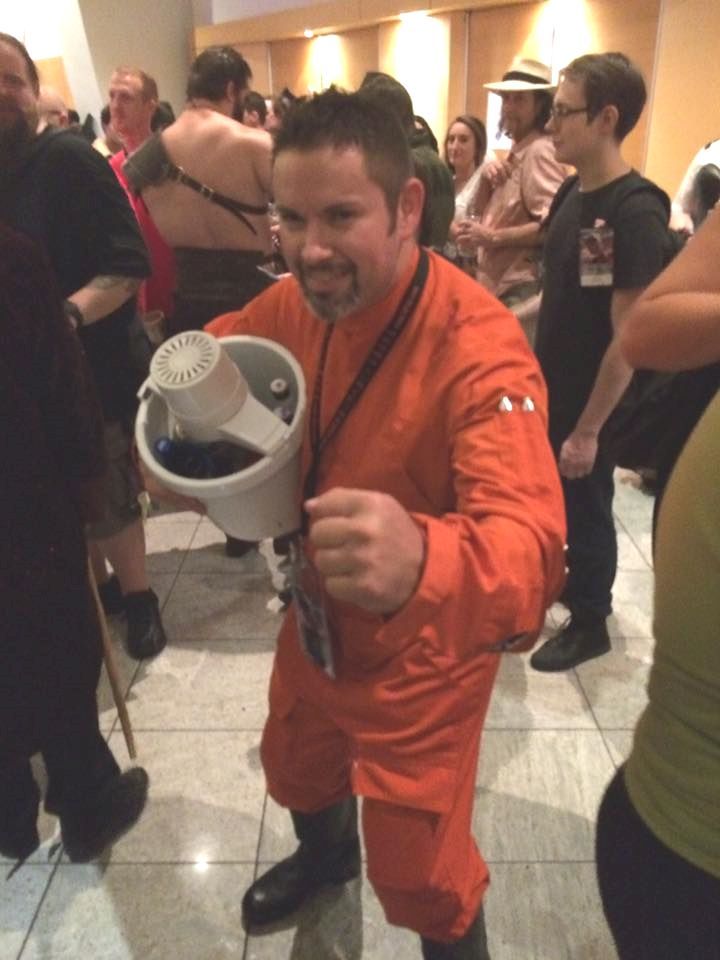 (To explain the joke, there's a guy in Empire Strikes Back carrying a real-life ice cream-maker under one arm, presumably because it looks like some kind of futuristic prop. They even made an action figure of him). Character "Willrow Hood", "Ice Cream Maker Guy."

Star Trek Redshirts (The Original Suicide Squad)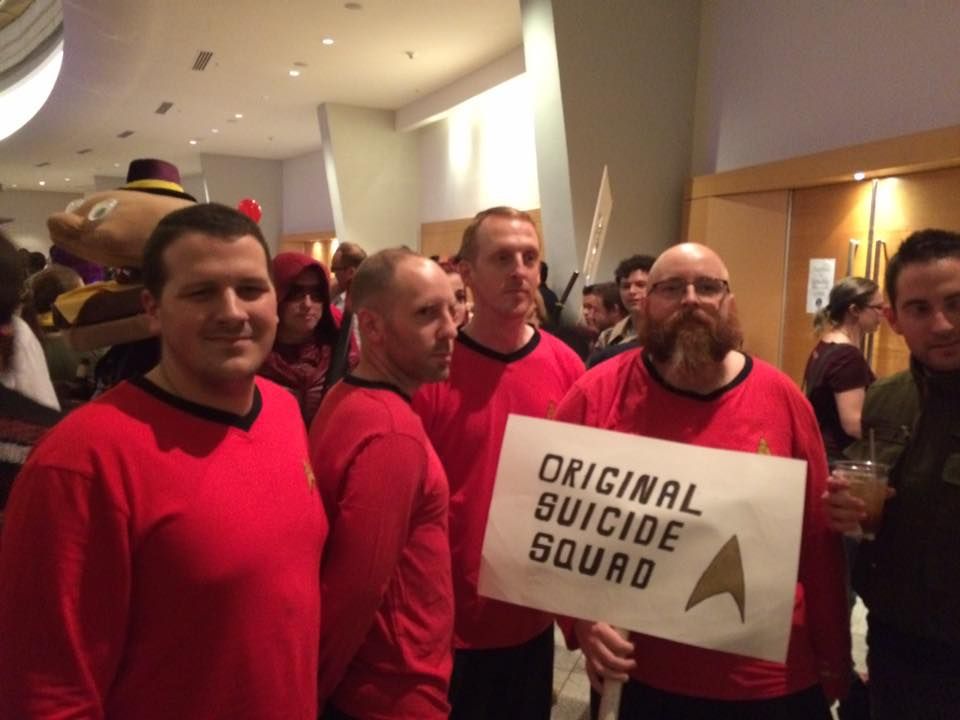 Neil Gaiman's The Sandman (Morpheus):

---

Dragon Con 2016 - Day Two - Saturday, September 3rd, 2016

For the first time the Dragon Con parade was shown on television in the Atlanta area, on Atlanta CW 69.

The Alternate History Track and Robotics Track were going to have Splendid Teapot Racing, but it got cancelled. Maybe next year.

I went in costume as Fin Shepard, the Chainsaw Guy from the Sharknado movies, with a 9-foot plush shark.
I'd done this costume previously Halloween 2013, and Dragon Con 2014.



I made #12 on this 15 Hilarious Cosplays From Dragon Con 2016.

Sharknado Guy and Tardis



Sharknado Guy and Katy Perry Super Bowl 2015 Left Shark.



Jan in a Pan (Mystery Science Theater 3000 513 (1993) "The Brain That Wouldn't Die" (1962).

---

Dragon Con 2016 - Day Three - Sunday, September 4th, 2016

I went as the 2001: A Space Odyssey Monolith, with club to encourage primitive primates to grow in intelligence and beat each other with the club. TMA-1 (Tom Magnetic Anomaly One). I'd previously done this costume Halloween 2015.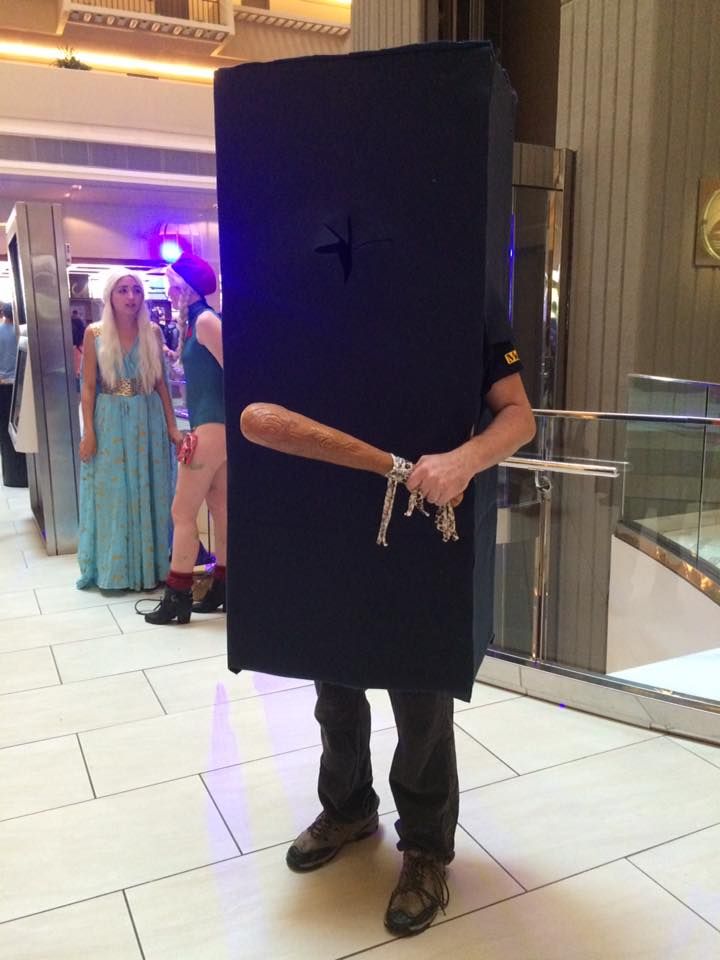 I was the monolith outside, but underneath I was representing Svengoolie!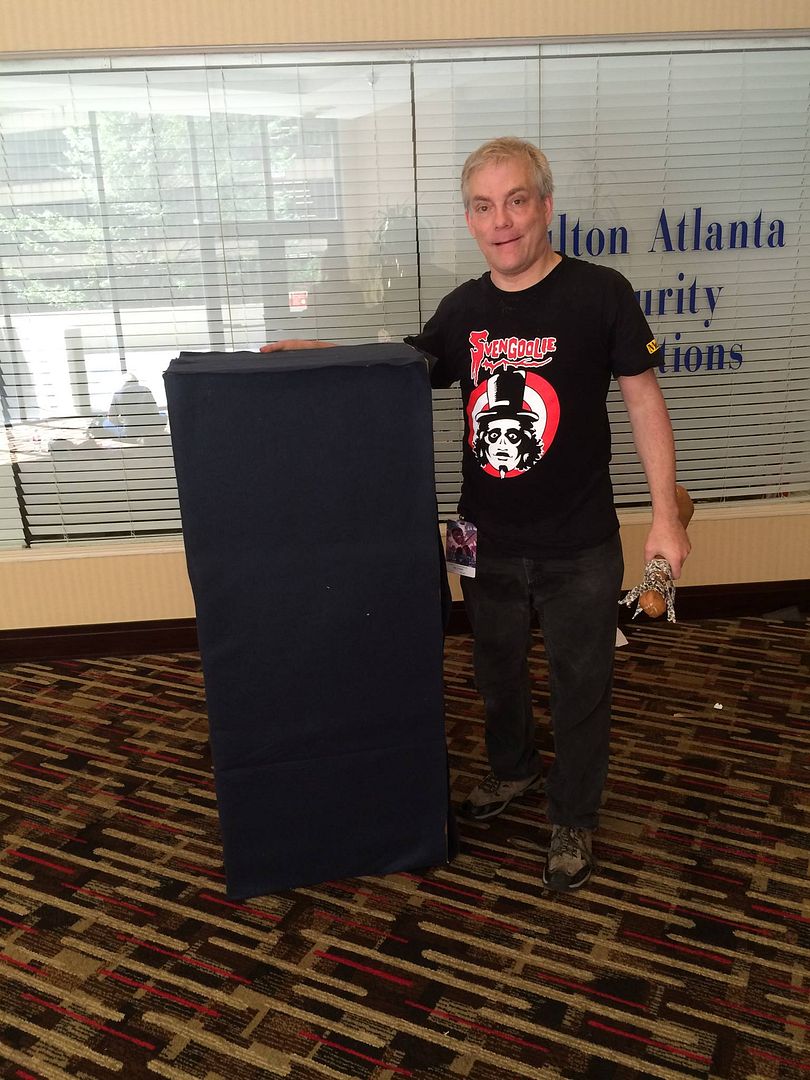 Science Track panel: Quark and Higgs Boson particle: Physicist Arie Bodek. Hilton 210-211.

Venture Bros. panel, (Doc Hammer, et al) 5:30pm Marriott Atrium Ballroom.

The Humungus at another Mad Max panel (7pm Westin Chastain F-H).



Mad Max Warrior Woman



Robby the Robot



Mad Max: Fury Road: Furiosa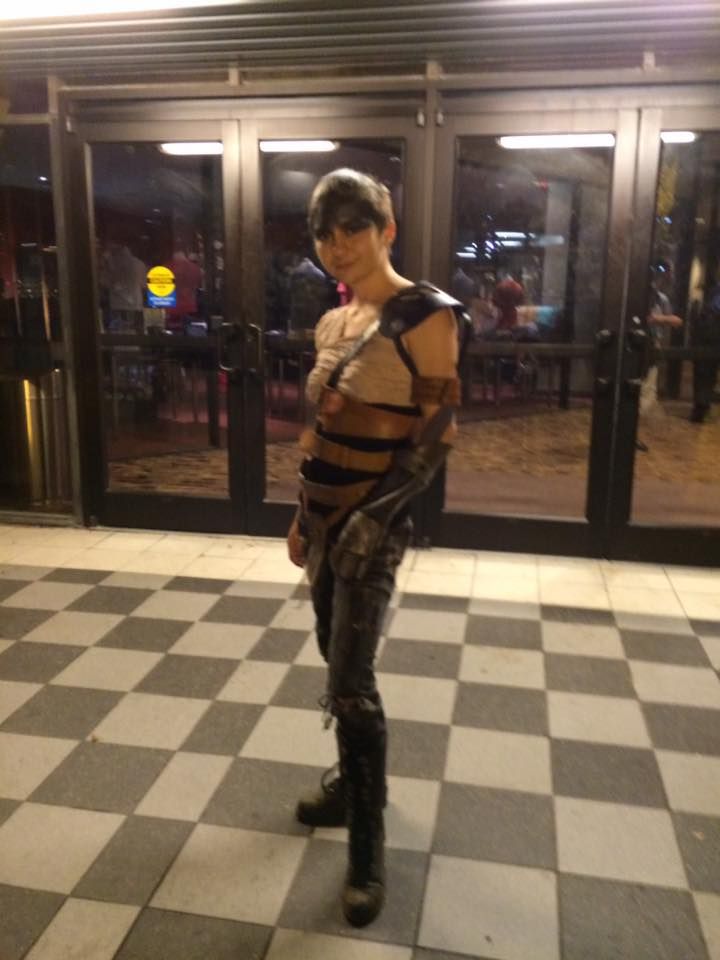 ---

Dragon Con 2016 - Day Four - Monday, September 5th, 2016

Dragon Con Last Day (Report to Carousel):

Alex Kingston panel (River Song on Doctor Who), 10am Sheraton Grand Ballroom.

I later tried to get her autograph for a friend, but she was already gone from the Walk of Fame in the Marriott Imperial Ballroom.
But Sam Jones from Flash Gordon (1980) says hi. You know, he saves every one of us!

Now, I note a funny thing: Alex Kingston's character on Law & Order was named Miranda Pond.
So, *obviously*, they need to do a crossover Doctor Who episode where we learn that her Law & Order character is related to The Family Pond. Maybe even River Song herself living under an alias!

Red Rocket Farm working hard in the Artist Alley (AmericasMart, Building 2, 3rd floor).



I meet comic book artist/writer Mike Grell in the Artist Alley.
(Jon Sable, Freelance, and the best James Bond comic book ever done, Permission to Die [1989-1990-1991].



A really good Kylo Ren:



If you still want to see more Dragon Con costumes, Blastr.com: Dragon Con Cosplay 2016: A Mega Gallery of our favorites.

Peter David panel, 1pm Trek Track

In the back of the Trek Track room (AmericasMart, Building 2, Floor 4, Room 204-DE)
was this amazing 11-foot lighted model of the Enterprise. The same size as the recently-restored one in the Smithsonian (The original show's prop),
but without the modifications, so it's as it was when the pilot episode "The Cage" was filmed in 1964-1965.
For example, the nacelles have the pointy spikes on the front.

Made by Matt Green and Scott Lyttle for the fan film, Star Trek: First Frontier.



The box on the floor reads "Mr. Scott's Power Box!"


"All right, Mr. Roddenberry, I'm ready for my closeup."