Red Rocket Farm had a yard sale to help pay the veterinarian bills for a rescue cat, Precious (Shot repeatedly with BB gun or buckshot, among other injuries).
A little homage to old Burma-Shave signs.
Upon arrival at the yard sale: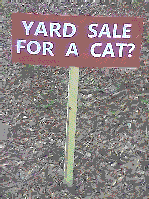 YARD SALE FOR A CAT?
IMAGINE THAT!
SATISFYING TREASURE!
BEYOND ALL MEASURE!
RED ROCKET FARM
Upon departure from the yard sale: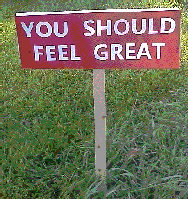 YOU SHOULD FEEL GREAT
YOU HELPED KITTY'S FATE
WITH LIVES, ONLY EIGHT
WE THINK YOU'RE FIRST RATE
RED ROCKET FARM
Full story
here
on the Red Rocket Farm webpage.